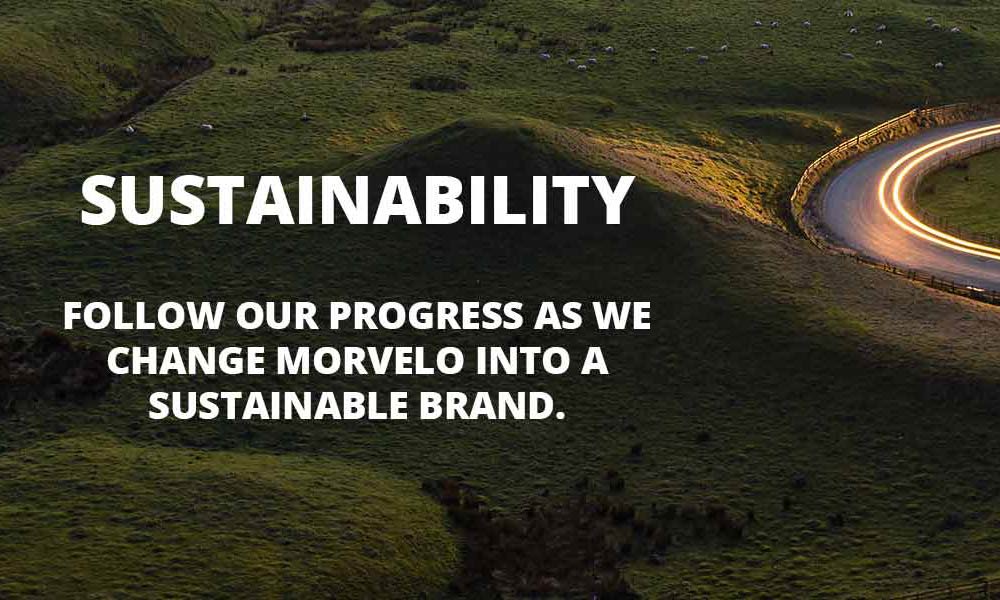 Sustainability
The reason we took up cycling is because we love being outdoors. As we spend most of our free time outside, we feel an ever increasing desire and need to make sure our actions as a company aren't to the detriment of the world we love.When we started Morvélo we didn't have much of an idea about anything other than our love of bikes, so it's fair to say sustainability wasn't high on our agenda. However, now it feels like it's not just a 'nice to have', but an urgent necessity.
Here are some statistics that really made us sit up and take notice:
80 billion items of new clothing are made each year
That's 400% more than 20 years ago
Clothing utilisation has decreased 36%
Globally, customers miss out on USD 460 billion of value each year by throwing away clothes that they could continue to wear
Up to 60% of people admit to owning more clothing than they need
CO2 clothing emissions set to grow 1200% by 2050

We are no Patagonia, but that doesn't mean we shouldn't try to be. Not for marketing purposes, but because we are a small independent business that we hope can have its own small part in helping change people's perceptions and become a sustainable and responsible brand. If we can encourage other small brands to do the same, then hopefully we can turn the tide. If smaller brands like ours can make the change, then the big ones have no excuse.
First things first we try and make those changes closer to home. We all cycle to work every day, make and bring in our own food, operate a low waste office and recycling everything where we can. We limit international travel (personal and business), preferring to do all photoshoots in the UK (even when it's a Spring Summer shoot and it's January!) and only see our suppliers overseas when absolutely necessary, instead using video conferencing and Skype / WhatsApp / WeChat to communicate regularly with them. It's small steps but we feel it all adds up and we feel motivated to continue to make positive changes in everything we do.
Our Progress

June, July & August 2020

15,412 trees planted to date.
Changed the following products to use recycled fabrics for AW2020: ThermoActive Jerseys, Standard Short Sleeve Jerseys (apart from the sleeves), ThermoActive Bib Tights, Nth Series and Standard Bib Shorts (apart from the leg grippers) and Warmers.
So why not everything and why are some elements like sleeves on the Standard Jersey and Leg Grippers on the bib shorts not recycled? This is because we made the decision to use up the fabric we already have and then move to recycled as and when this is used up. Otherwise we would be doubling the carbon footprint by making extra fabric when it isn't needed.
Finally found a paper alternative to individual poly bags! We currently use biodegradable bags but this was only a stepping stone to removing plastics altogether so we are excited to make the transition to these in early 2021.
Began our 'No Waste' initiative whereby we use end of line or redundant fabric. This will make an appearance in AW2020 with the MTB Jerseys and Hydrologic Rain Jackets.
We will be taking delivery of five sewing machines in October so we can offer an in house repair service soon after.
We are also focusing significant attention into the circular economy as we believe this is the only true sustainable model. Designing new products, ideally from existing recycled fabric, so they can be easily repaired and can be simply disassembled at the end of their life. These components can either be upcycled or efficiently recycled into a viable form so new cycle clothing and trim can be made from it, thereby closing the loop.
Oli presented our plans and journey so far as part of the Commerce Futures project
April & May 2020
12,196 trees planted to date.
Small physical steps over this past few month but lots of calls, emails and Zoom meetings with partner and potential partners in the circular economy. We liken it to a jigsaw. Finding all the pieces we need to make our brand fully circular. Currently our focus in on laundry solutions so we can begin our own recommerce program and also recycling solutions so we can dispose of waste or irreparable products in a way which means they can be used to create new products. It's not a straightforward process and many of the industries that support the circular economy are only in their early developmental stages.
The small physical steps are that we are moving our warehouse back to Brighton and moving our offices into the same building. This is to help us reduce our carbon footprint and have a close eye on all systems, processes and energy usages within the business. We are also particularly happy with the new arrangement as the warehouse is owned by a Community Interest Group; The East Brighton Trust. Our rent then contributes funding to a range of grants, schemes, events and activities across the area. These social partnerships are something we aim to increase in partnership with our environmental plans as we continue our path to becoming B Corp certified.

March 2020
9481 trees planted to date.
Looking to partner Heal which raises money and buys land in England to rewild.
Once again it was a month where it is hard to put down in writing what we have achieved as there wasn't a list of defined objectives. Of course COVID-19 has caused great disruptions but on the other hand it has give us some breathing space to reach out to many companies we need to partner if we are to transition to a fully circular business. It also has given us more time to develop and refine what we are calling The Overland ReMix Jacket by Circular Inc. (our new business venture) which we began in February. This will be a fully recycled and recyclable jacket with upcycled options which we hope to launch on Kickstarter in Feb 2021. It is a project which is enabling us to test out many initiatives that can transfer across to Morvélo and The Overland.


February 2020
Contacted Fit For The Future about using cross industry knowledge to help us reduce our carbon footprint.
Nearing completion of our waste fabric project with the Sustainable Design course at Falmouth University.
At the prototype stage of our Re-cycle-d project where we look to turn damaged and warranty products into new cycle jerseys.
First stage of a circular economy rain jacket in partnership with German fabric brand Sympatex; to design a piece of outerwear that can be fully recycled into a new product and include up-cycled insulation options.


January 2020
Over 4500 trees planted to date.
As anticipated, we couldn't sustain the big leaps from previous months so January on the surface looks like not much was happening on the sustainability front. But then this is the point of these monthly updates: to openly document how a path to sustainability can be feast or famine. We haven't been sitting back however. January was a month of sustained research and reading. Every possibility for a clear path forward can then be obscured by counter arguments. There seem to many options that although better than before are essentially variations that are less than ideal. We have to make sure we just keep moving forward inch by inch, each step being better than before. If we and others can do this and keep abreast of new developments within the textile, logistics and recycling industries then we can not only make the most of any advancements in these areas but also actively push for changes. Due to pressures and questioning from us and other customers, we have already seen our largest supplier (and even smaller suppliers) change to actively look at energy and plastic usage and in turn pass they pass on the demand for more energy efficient recycled fabrics onto fabric mills. And this all starts with the you, the consumer. If we keep the demand and pressure going up the chain then significant change will certainly happen!

December 2019
Over 2600 trees planted to date.
Investigated repair systems that can further the life of a product. Can a product be designed so that high wear sections can be replaced.
Speaking to NoSoabout custom patches for repair work.
Started repair program with Alpkit.
Began work with Brighton University to research best practice for sustainable textiles and clothing - for example, should polyester be used still if it extends the life of the product and is constructed in a way that fits with a circular economy, or are organic fabrics, such as cotton, better even if they use significantly more energy and resources to create? The more we investigate to find a black and white solution the more we uncover extensive areas of grey.
Speaking to Rapanui about paper packaging, removing plastics and the creation of circular tees that can be recycled and made into new tees. What we have been most impressed with is how other brands are willing to share and collaborate to help find better ways of making sustainable clothing

November 2019
Over 1500 trees planted to date.
Joined Clean Growth which drives clean and green innovation in partnership with British Universities.
Began the Cradle 2 Cradle jersey project in partnership with the Sustainable Product Design course at Falmouth University.
Began a jacket and jersey project that uses existing fabrics in their construction, investigating whether it is possible to create a commercially viable sportswear product from old sports clothing.
Further research into the circular economy in regards to sportswear, looking at soluble thread, recycled zips and bioplastics.

October 2019
Confirmation that Alpkit will run our repair service.
Discussions with Repackabout trialling their trash free packaging solution.
Removed plastic hangers from future glove and sock packaging
Began conversations with both the Sustainable Product Design course and Sportswear Design course at Falmouth University to become an industry partner, focusing on the circular economy and how to utilise waste fabrics.
Became a member of Sustainable Apparel Coalition.
Joined the Shift Industry Hub
We have changed our commitment to One Tree Planted. Instead of an optional tree donation from the customer, we now plant a tree for every order and the cost is ours and free to the customer. This has already resulted in over a 300% increase in donations.

September 2019
Discussions with Alpkitto offer a repair service to our customer
Initial discussions with Gomi, a Brighton based company that produce products from you non-recyclable plastic waste
Investigating wood pulp based plastics for packaging or paper alternatives
Discussions with Climate Neutral to measure, reduce and offset carbon emissions.

August 2019
Started B Corp research and initial assessment
Found recycled fabrics for use on our 2020 cycle shorts and jerseys
Researched new recycled fabrics for 2020 Overland products
Investigating plant based fabrics for clothing production
Research into recycled vs compostable vs biodegradable bags
Looking into offering a discounted Guppy Bag with all purchases to help reduce the amount of micro plastics
Looking to partner Cycle of Good to enable our customers to re-use their Morvélo packaging to send Cycle of Good unwanted inner tubes which can be recycled into products
Investigating clothing repair facilities

July 2019
75% of all our plastic packaging will use D2W biodegradable plastic.
All Morvélo orders shipped in sustainable, easily recyclable paper mailing bags rather than plastic.
Partnered with One Tree Planted to offset delivery carbon emissions.
Wherever possible recycle warranty returns and donate usable returns of jackets and jumpers to Help Refugees.
Increasing the amount of BlueSign Accredited fabrics we use, to ensure responsible and sustainable manufacturing.
Global Organic Textile (GOTS) certificate awarded to our sock supplier.
Joined Shift Cycling Culture, a network of people from the cycling industry and community that question why we are not addressing the environmental impact of our cycling culture.
New Overland Collection is designed to cross over seamlessly between work, life and play, removing the need for multiple outfits and helping reduce the amount of clothing you own.

Future plans
Every new Overland product to be developed using recycled or easily recycled fabrics.
Introduce recycled fabrics to the Cycle Sport ranges.
Introduce recycled fabric options to our custom clothing range.
Offer customers the opportunity to return their old or damaged clothing to be recycled.
To create products from easily recycled material, not just from recycled materials.
Reduce the amount of clothing we produce by limiting inventory and producing clothing more on demand.